September 16; Haslev, Danmark
We arrived safely at Copenhagen airport. Supposedly our plane spent an hour on the ground at Heathrow airport, but I was oblivious; I fell asleep about 5 minutes afte boarding the plane and did not wake up until about 15 minutes before landing in Copenhagen.
Our luggage arrived safe and sound. We were scared for a bit because we somebody unpacking a bicycle out of what looked like a destroyed box. But after we talked to him, he reassured us that the box looked like that when he left Milan; he was unable to find a real bicycle box and was forced to improvise. Our boxes looked much better than his; a little beat up, but no worse than expected. Our bicyles were fine, except I had a little hole in my seat where it had rubbed through.
It took over an hour to put our bikes together and pack our stuff up, but then we were ready to rumble. It was starting to get dark, but it was only a 20km trip through well lit city to my second cousing Charlotte and John's place, so off we went. Bethany had a good map, but it wasn't too clear on how exactly we were supposed to leave the airport. We ended up not quite taking the route she wanted to, but that was OK, I got to see the long line of wind towers set up off the east coast of Copenhagen.
As we got towards Copenhagen, I was astounded by the sheer number of bicycles w encountered. I swear there were almost as many bicycles as there were cars, and this was not during the rush hour or anything either. There were basically 4 lanes of bicycle traffic. We weren't quite used to that; it was kind of intimidating during the pile up at the lights. Bethany's load was heavy and unbalanced, so she was very slow starting off at the lights. We had to remember to take the "slow lane" out! We passed through the main square and Tivoli, so I got to see some of the sights.
After much map consultation, we arrived at Charlotte and John's, who cooked up a nice meal for us. Charlotte takes home food from work, so she always has somethng good available to eat. We then chatted into the wee hours of the morning.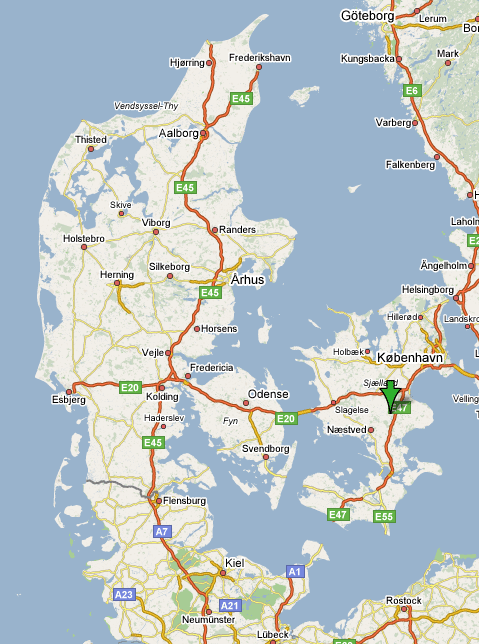 After waking, Charlotte had some Viennabrod waiting for us that she had picked up at the baker's during her morning run. In Canada we call them Danishes; not surprisingly, they are better in Danmark. Bethany wanted to get a heavy duty kick stand (which she had trouble finding in Canada), and I needed to get my seat fixed, so we headed to the local square for that. After that, since my seat was missing off my bike, we took the bus in to downtown Copenhagen to do the tourist thing.
You'll have to check Bethany's updates to get the exact names of the places we visit, I don't keep them straight. The first place we headed to was the main square, because of the information booth there. We found information, and then headed down a pedestrian only street to grab some food. We were in a hurry, so we just grabbed a Shawarma. Yup, on my first trip to Europe, one of the first things I eat is a Shawarma. We then headed down to a bicycle touring place; the main information place sent us there to get cycling maps. And maps we got; almost $100 worth. Next was Nyhavn, which is very cool; check Bethany's photos once she gets them uploaded. From Nyhavn we took a boat tour, which was very nice, except I came close to nodding off a few times there: blame it on the jet lag, I suppose. Given my state (and Bethany wasn't much better), the next order of business was to find a park and have a nap. There isn't much grass in old Copenhagen, so we went to the biggest piece, in front of a summer palace. Lots of kids picnicing with crates of beers (try that in Canada), but it was relatively quiet and I was able to get my 20 minute nap. From there it was the bus (during rush hour) back to Charlotte and John's.
A three course meal awaited us when we got there. Impressive and tasty. After supper we played some Trivial Pursuit. It was in Danish so that was interesting. They were translating, but we were reading out the questions, sounding them out phonetically. Cause for much amusement, I'm sure, although they were quite polite and claimed that our Danish sounded good. Naturally the boys beat the girls, and quite thoroughly, too.
We then hit a local pub, but one of my migraines hit, so that cut off the evening early.
more to come…