Ferry to Samso, September 18.
Bethany is doing today's entry – Bryan is too tired after today's cycle. Or at least currently uninspired.
So I'm beginning to wonder if I am going to survive the battle wounds associated with cycling over 4000 km. I had developed a sore neck about 3 days before we departed – "slept wrong". The day before we left was definitely the worse it has been but it was very sore after our first night in Denmark. At the moment, most of the time it doesn't bother me – just when I look up and to the left. Unfortunately both actions required while cycling, especially upright. It is getting better but about 50 km into our ride today I wished we were done for the day. Instead that was only about half-way. Then I crashed my bike when I caught the edge of a path and was launched left shoulder first into the ground with my bike landng on me. Me and the bike and most importantly my camera (well I haven't checked my telephoto lens which was on the crash side yet) were reasonably unhurt but now my shoulder is a little sore. Then a few bashes of my pedal into my ankle bone (which Bryan found funny until he realized I was actually hurt) and a few other random scrapes and bruises. My butt, however, is okay and I love my saddle. Maybe I will survive.
Our bikes too have gone through a series of misadventures. Nothing serious but things which have slowed us down. My original kickstand broke under my bike's loaded weight at the airport (it had been loaded with about 70 pounds of stuff which has since been rectified) and had to be replaced by a sturdier Danish kickstand. But then I let Bryan install it and he managed to clamp my derailleur cable in! And I'm hyperaware of noises. Probably part of my farm upbringing since my father taught me to listen to changes in the sound of equipment as something may be wrong then. The first rattle that suddenly appeared turned out to be my back rack in which all the the bolts had loosened. Today's pedal creak meant they needed to be tightened which a stop at a "Cykler" readily fixed. But we'll never be able to get them off again at the Rome airport. I think you have heard about Bryan's hole in his seat, broken bag, broken cable on his cyclocomputer, and missing bolts on the front chainring (another Cykler in Haslev this morning was able to manufacture replacement bolts after they didn't have anything stock which would work). Hoping for a day or two not necessitating fixes. I'm happy we are in a place where bike shops are on many a corner.
Well on to our day. We woke up a little earlier this morning; we had a ferry to catch at 6pm about 90 km away. It was raining slightly so we dressed in our rain gear, ate a breakfast of Weinerbrod and left Ove and Birgit's. Luckily we had forgetten to drop their house key in the mailbox because it was then I discover the deraileur incident and we needed one of Ove's wrenches to fit a tight space. That fixed we headed off, stopping to get Bryan's chainring fixed and catching the bike trail to Ringsted and onwards to Kalundborg. We had debated about taking the cycle path adjacent to a more major road or taking the minor back roads which were part of one of the National Cycle trails. In the end we decided the minor road routing was longer and we didn't want to miss the ferry to Samso. So 4-1/2 hours of cycling later and 90 km later we are now on the ferry. Bryan, per his usual routine, is face down on the table and asleep. Oh, he just awoke.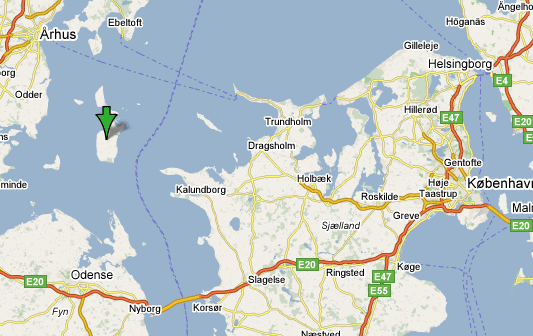 Denmark is not flat! Nor I suppose is it very hilly. But there are hills and today it seemed like we were always climbing one. My legs are a little tired. When we get to Samso we have bit more cycling to do. We plan on camping tonight. We finally found propane for a stove today too! The weather started rainy but didn't last very long. Actually very nice cycling weather being not too hot or sunny with the slight wind mostly at our backs. Should we only have such luck on our other cycling days.
We had a Danish packed lunch of open-faced sandwiches – frikedelle, rollepolse (ham), and fish cakes. Bryan made them copying Ove's packed lunch. Very good and filling. Dinner was in Kalundborg waiting for the ferry to leave. Bryan had wondered if the food was very good or if he was just that hungry. I think more on the hungry side although the fries were tasty dipped in Mayonaise. I figure we are allowed to eat whatever we want on this trip. Not entirely certain that we will loose weight but we would have to try to gain weight. I think.
Many of you know that this is my third trip to Denmark. I don't speak the language but definitely it is not entirely foreign to me either. This country is comfortable for me. It'll be interesting to find out if the other countries along the way feel similarly. Probably not. Bryan and I so far have been very fortunate to have been treated superbly by his relatives. It was hard to leave the comfort of their homes. But also exciting because there is so much more to come. And we may stop and see a relative or to of mine in the north of Denmark.
So this is my entry. Back to Bryan …