Bethany from Aarhus September 20, 2006
So tonight we are staying at a hotel in the centre of Aarhus, Denmark's second largest city, that is not within our typical budget. However, this afternoon I wanted to find a place to stay so desparately that I literally walked to the closest accommodations and asked if they had a room. They had one room left. Not the "cheapest" per the reception staff "but very nice with a bath tub". Sold! Turns out that it is a very nice suite, not room, covering the entire floor of a wing. Nice deep cast iron bath tub, two plasma TVs (with minimal channels), and strangely a spinning exercise bike – I would love one of these at home but at the moment I am trying to avoid bikes.
So when I told Bryan that I wanted to journal he asked if it was to complain about last night. The answer is yes, in part. The last 10 km or so of yesterday's cycle is probably why today I called it quits after only 5 km. Last night we stayed in a nice campground about 5 km south of Aarhus. This morning I called it nice, last night I just thought it was well placed.
We started the day in Samso. Bryan wrote of our adventures up until the ferry yesterday. When the ferry arrived in Hov on Jutland we headed north along the shoreline. We were both tired but had said that reaching Aarhus that night was our goal. That is when we thought it was only 20 km away instead of the 33 km it was in reality. The countryside is beautiful and the wind was behind us so we persevered. At one point we said if we saw a Bed and Breakfast we would stop, otherwise we would stay at the campground just south of the city. We did see one Zimmer but when we stopped, there was no one around so we continued. The last 10 or so km were hard though. By that time it was dusk to dark and the path veered slightly away from the shoreline and into the Moesgard Skov (or woods). The path became gravel and very hilly. And dark. What would have been a pleasant cycle in the daylight became a torment for me in the low light with fatigued legs and skinny tires. I did not feel safe or in control. I was disoriented in the dark and unable to recognize a place I have previously been. In fact somewhere unknown in that thicket of dark we passed one of my favorite places in Denmark: Moesgaard Strand (beach). Bryan saw a very unhappy Bethany. And luckily the campground appeared when it did. The reception was closed so we ended up just picking a spot, with the aid of fellow campers, and pitching a tent. The showers operated on a card system so we went to bed without bathing even though someone had offered us the use of their.
This morning I woke tired and dreading the bike. However, we packed up and headed into the city centre stopping by Marselieborg (Queen's summer palace) on the way. Aarhus looks very similar to when I spent 4 weeks working in a hospital eight years ago. I was also here 3 years ago travelling with my mother. Having now cycled in both Copenhagen and Aarhus, I find Copenhagen to be more bicycle friendly. And I am once again in need of a cykler. The kickstand that I bought in Copenhagen had been cut too short and will not support a loaded bike with a high centre of gravity. However, it helped because it prevented some rotation and allowed my original kickstand to support most of the weight. However, that kickstand snapped today. Now I'm carrying around a litle rock to "lengthen" the kickstand. I haven't seen a cykler yet in Aarhus.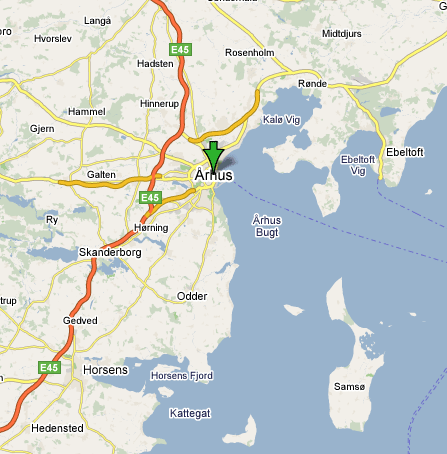 Well, I am going to go enjoy that cast iron bath tub and will leave Bryan the keyboard to leave his thoughts behind. We'll see if he comments about whether or not I terrified him last night in the middle of the woods. I'm sure I did.