Frederickshavn, September 23, 68km
(plus however far we have to go to get supper and back)
We can't have a day go by without an adventure, now, can we?
So last night, during my shower, I managed to knock my glasses off the shelf and onto the tile floor. I've probably done this hundreds of times over my lifetime, but this time they landed wrong and my right lens cracked.
At this point, most people would be freaking out. I don't have a spare pair along, and my prescription is very strong so I cannot wear off the shelf or easily fabricated lenses. But the lens managed to stay intact inside the frame, and although there are some very nasty cracks running through it, I can see fine. We're in a civilized country; I knew that I could get new glasses somehow.
After our shower, Bethany started our laundry. For those keeping score, we last did laundry at Birgit and Ove's on Sunday night. I ran out and did some laundry by hand Wednesday night in Aarhus. However, Bethany appears to have enough clothes for 5 days of cycling. I thought we were supposed to be travelling light!
Bethany managed to put the washer on a cycle that didn't finish with a spin cycle. We decided that it would probably be cheaper / more effective to run the dryer twice than to buy another cycle on the washing machine just to get the spin. We wrung out the clothes and put them in the dryer.
40 minutes later, the clothes were still soaking wet: it appears that the dryer had very little heat. 3 cycles later, we were out of money, it was 1AM and the clothes were still wet. Luckily, it was still windy out, and wasn't dewing, so we strung up a clothesline and adorned the pine trees with underwear.
Of course, since we went to bed late, we didn't get an early start today. (seems to be a theme, eh?). But I had to get my glasses fixed, and it was likely that an optician would close at noon.
We got back into Hals for 11:30. After spending some time talking to the gentleman there; he figured that their location in Dronninglund would better be able to help us. However, Dronninglund is 20 kilometes away fro Hals, and the store closes at 13:00. Given that it was now close to noon, we had to move, and move fast.
So we sprinted in t Dronninglund, and got there wth 10 minutes to spare. They were unable to do much more than the Hals store, but I did get a new pair of glasses ordered, and arranged to pick them up in Thisted next Thursday.
After some pizza, we headed out to Frederickshaven, through Saeby. There are no campgrounds open at this time of year between Frederickshaven and Skagen, so we were in no hurry.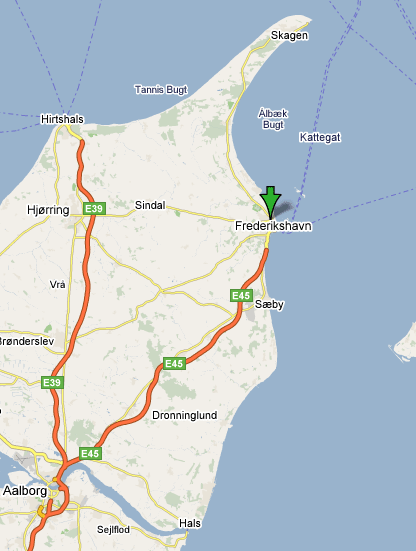 Being in no hurry, it was a nice ride. We stopped a few times to walk along the beach or to take pictures. Again, there was a nasty wind, and again, most of the time it was either helping us or cross to us. Once we start going south again, the winds are going to bite us badly, I'm sure. Bethany's hands were gettng numb holding her bicycle steady in the cross wind, so we took the front panniers off of her cycle and put them on mine to reduce the load on her steering wheel. It wasn't that unfair, she got the tent in return.
We're now at the camp site outside Frederickshaven. They have a couple of internet computers, but it closes soon, so we're taking advantage of it now. I guess that means we may have to cycle back into town to eat after we get you all updated. I hope you appreciate the sacrifice I'm making, because I am HUNGRY!