Skagen, September 24, 55 kilometres.
Today we only planned on travelling to Skagen 40 kilometres away, so when we fell asleep again after breakfast, we just enjoyed the nap, and headed out after lunch.
Unfortunately, once we reached Skagen, we realized that we had misread our camping guide. "10.9" meant a closing date of September 10th, not October 9th as we read originally. The closest open campground is at Skiveren, about 30 kilometres past Skagen.
One of the major tourist draws to Skagen is the sand church. Almost three hundred years ago, the church was submerged by an advancing sand dune, leaving only the tower.
We have seen cyclists throughout our cycle through Denmark but the number has been decreasing with our trip north. Until Skagen. It is a Sunday and there were numerous couples cycling two-by-two and families picnicing in the dunes with their cycles nearby.
The other place we visited was Grenen, the northernmost tip of Denmark. Well, technically that would be in Greenland, but you know what I mean!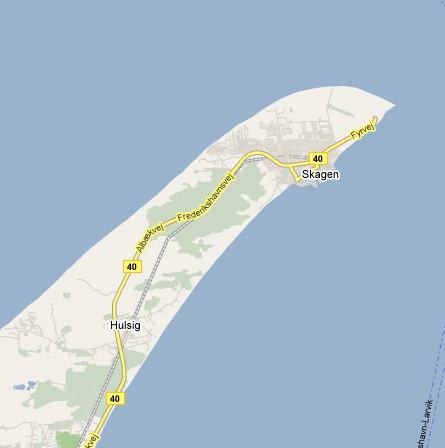 We walked out along the sand spit to the point where the Baltic and North Seas met.
By the time we had walked back to our bicycles, it was 6 o'clock. We didn't have time to bicycle to Skiveren without pushing hard, but Bethany's hands and neck are still bothering her, so we grabbed a motel room. No bathtub this time, though!