Bethany from Legoland (Billund), October 3, 2006 (46 km)
So another flat tire but we did make it to Billund, the home of Legoland. Lego was created in Denmark and is named after the Danish word for "to play".
We awoke at a reasonable time and were on the road toward Billund before 10 am. For us, this is a really early start. We woke to dark and rainfilled clouds mixed with blue sunny patches. We did have a few showers but at least no downpours today. Steady headwind though for most of the cycle. When we did have it as a tailwind for a short while, I noticed almost a 10 kph increase in my speed!
Yesterday's theme was "What goes down, must go up". Luckily we moved out of the hills today and into more rolling terrain instead. About 12 km out, Bryan had another rear flat making it the fourth in a very short period of time. Another rock through. This time he decided to change the tire and put on his spare. He had thought the tires still looked good when we left but they are now looking a little beat up.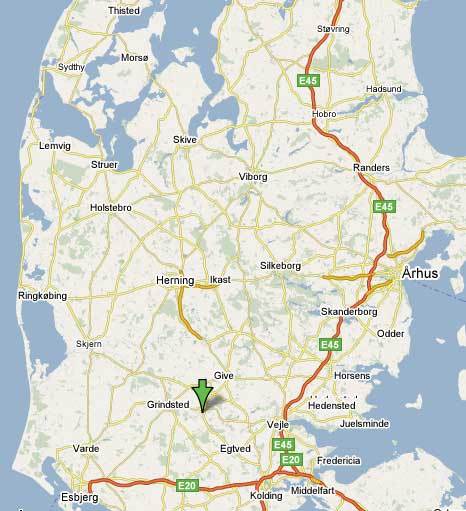 So we did make it to Legoland today. Overall we have done very little touristy stuff so far on this trip. Legoland is definitely touristy. The park has the famous miniland which was the origins of the park. It is here that miniature places are built out of million of pieces of lego. There are many popular destinations around Denmark and a few other countries. Boats sail on canals and through locks, buses travel streets and on ferries, windmills turn, and airplanes taxi. Since Miniland, Legoland has expanded to have theme areas such as Legorado (where we had a huge meal of spareribs at the saloon) and small rides. I no longer seem to have a stomach of steel as I turned a little green from the two rollercoaster rides we were on. The pictures taken on the ride show Bryan agrin and me cringing.
Our days in Denmark are almost over as probably by the weekend we will cross into Germany. I'll be sad to see this country go. Soon it will be another language and another currency, another system of cyclepaths and campgrounds, another … That can be exciting but there is definite comfort in the familiar. Our plans from here I do not know precisely. We will be heading to Aabenraa to pick up Bryan's glasses which hopefully will be there for Thursday. Looking at how fast we have been travelling with the rain and wind, we will not likely make it there until later on Thursday. Tommorow's destination as yet unknown.
We are staying this evening in the campground right next to Legoland. Very conveniently located as Bryan started to develop a migraine toward the end of the afternoon. He has gone to bed in our rather damp tent as I document. Hopefully he will later add some of his points to the day.